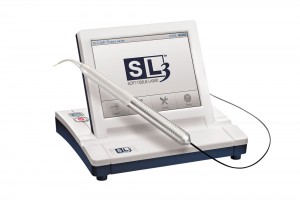 Capital Dental takes pride in keeping up with the newest dental innovations that improve patient care and acceptance.  One of our newest additions is the soft tissue LASER.  LASER dentistry is one of the fastest growing fields today.  Both Dr. Conaghan and Dr. Varney have completed extensive continuing education training and are nationally certified in LASER dentistry.  The advantages of the LASER are decreased healing times, minimal bleeding and less need for numbing agents.  The soft tissue LASER has a number of uses in the dental office, such as:
–          Improve a gummy or uneven smile
–          Uncover and restore wisdom teeth
–          Easier and quicker crown impressions
–          Removing oral soft tissue lesions
–          Treatment of canker sores and cold sores
–          Aiding in the treatment of periodontal disease
–          Improving hygiene access (brushing/flossing) for hard to reach teeth
The LASER is available in both the Bethesda and Sibley locations.  Please call us if you have any questions or would like to set up a consultation appointment.