Extractions
Why it is done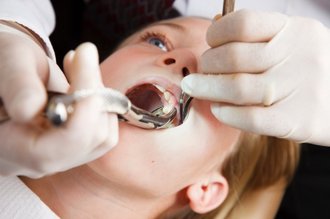 The extraction of a tooth or teeth is sometimes a necessary procedure for your oral health.  Wisdom teeth sometimes need to be extracted in order to prevent crowding of your back teeth, the impacting of the jaw, and gum disease or tooth decay in the wisdom tooth.  Here in our dental office we do not do wisdom teeth extractions.  Instead, our doctors will monitor the movement of the patients' wisdom teeth using panoramic x-rays and if needed, they will make a referral to an oral surgeon if extraction is necessary.
Our dental practice does, however, perform extractions of other teeth.  Here are some of the reasons why our doctors would recommend extraction of a tooth:
Severe tooth decay or infection
Severe gum disease
Fractured teeth
Preparation for a dental implant
Preparation for orthodontic treatment
To make room for incoming teeth
Procedure
Before extracting a tooth, our doctors will make sure that the area around the tooth is numb so that this is a pain-free experience.  The doctor will then proceed to remove the tooth.  An incision may need to be made to open up the gums to help with removal.
For children that come in and need help loosing a baby tooth, we will give them "California Juice" to help make sure everything is comfortable for your child.  And we make sure that your child leaves with a necklace that holds their tooth so that they can take it home to the tooth fairy.
After extraction, our doctors will have your bite down on a gauze pad to help the blood clot.  Stitches may be needed in some cases.  During this time we will go over after care to help with a speedy recovery.
For more details about what to expect after surgery, click here to read our post-op instructions!